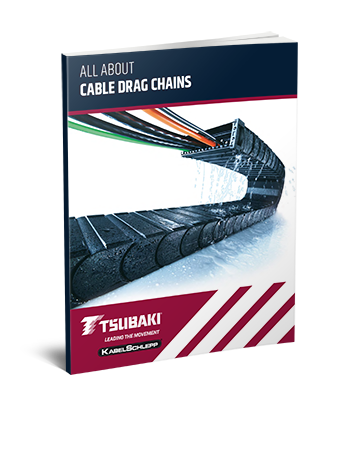 Cable drag chains—also referred to as cable chains, cable carriers, cable track, and energy chains—are used to guide, support, and protect cables, hoses, and hydraulic lines when in motion. Industry professionals use them to prevent cables & hoses from tangling up or incurring damage during machine motion, both of which can cause accidents and contribute to downtime.
Tsubaki-Kabelschlepp is well-versed in the safety and financial impact of efficient cable drag chains. Currently a global player in cable carrier systems, Tsubaki-Kabelschlepp experts develop individual products even for complex and unusual fields of usage around the world.
Check out this e-book for a high-level overview of cable drag chains, which includes:
Types of materials commonly used in cable drag chains
Advantages of Tsubaki-Kabelschlepp's Plastic (Nylon) Cable Carriers
Linear and circular applications for cable drag chains
To learn more, download your own free copy today!